It was good to be together for our annual conference at Rosa Mystica Spiritual Center.  Early on Friday morning before the conference began, we had the opportunity to participate in a tree planting climate change activity in Juja in Kiambu County sponsored by current scholar, Moses Nyambura (see photo at right). Juja is an area where droughts, flooding and extreme temperatures affect the population. Several other current scholars (Nora Okombo, Dennis Murimi, Robert Maina Baaru, James Opiyo) as well as Student Coordinator Dr. Catherine Kaimenyi, Auxillia Omwanda and President Deb Gust joined in the activities.  We planted endemic species at the Precious Blood Primary School, Star of Hope Children's Home and Woodland Academy.  Moses is President of the Jomo Kenyatta University of Agriculture and Technology Equity Leader's Club. Many Equity Club members were in attendance supporting Moses and the climate change project. On the same day we visited with the teachers from schools where Moses is mentoring students, among them his former primary school, Thiririka Primary School.  They were quick to tell us about the large impact Moses and his club members are having on their primary school students, from higher attendance, better grades, fewer drop-outs to less drug use.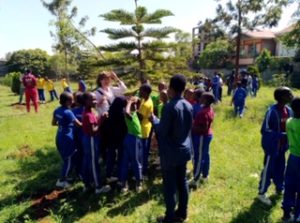 The conference started Friday evening with Dr. Patrick Nyagah, who heads the Transformative Thinking Center.  He met with the current scholars together and one on one.  He has taught and mentored them since they joined the program.
On Saturday morning, after an opening prayer, James Opiyo and Moses Nyambura each read a poem about PATHWAYS that they had composed themselves.  It was a gift hearing their talents as writers and thoughts about PATHWAYS.  Next, each of the scholars took one of the following key core values of PATHWAYS (Integrity, Leadership, Mentorship, Community service, Communication, Accountability, Selflessness, and Excellence) and gave a presentation with examples from their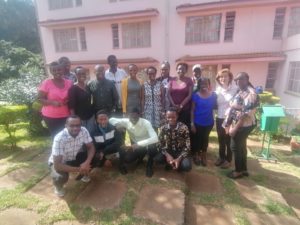 lives.  Thereafter, Dr. Kaimenyi presented on the importance of deliverables from each community project, Dr. Gust offered information on how to have a happy life, Monicah Nyambura offered feedback on project visits and encouraged scholars to rate their own progress, Dr. Otieno presented on finances and the manner in which scholars are evaluated (academics, community project, and communication), and Auxilla Omwanda presented on the Girl Project and showed  engaging videos of the participants in the various communities.
Towards the end of the day, the alumni present came forward to offer an update on their lives and careers as well as directed some insights and wisdom to the scholars.  Alumni present were Jackline Okello, Sharon Langi, Dr. Shelly Okumu, Levis Maina, and Dr. Brian Maluki.  Apologies were offered from Ken Otieno, Hussein Abdhallah, Lily Chepkorir and Michael Murigi. Importantly, Dr. Maluki, Lily Chepkorir, and Michael Murigi contributed funds to sponsor a new scholar in the PATHWAYS program.  Many thanks to them! Finally, certificates were awarded to scholars who completed the PATHWAYS on-line critical thinking and climate change course in 2021.
Sunday morning began with a presentation by the scholars in the form of an African song called "Bwana ni mwokozi/Christ is my salvation".  They sounded terrific! After some closing thoughts from everyone, we adjourned. Special thanks to Robert Maina Baaru for volunteering to be Master of Ceremonies.