Nursing and Public Health, Kenyatta University, 2015
Economic Project: Economic empowerment of youth through duck rearing and agriculture
Kisumu
Mentor: Catherine Kaimenyi
Eunita is the second born in a family of six children from Manyatta slums in Kisumu. Both of her parents are small scale business people. Eunita chose her project because she saw the youth who cannot afford additional schooling needing a means of income so that they can become contributing members of the society. After completing her nursing and public health degree, Eunita intends to directly serve the community through governmental departments or nongovernmental organizations or privately owned health centers.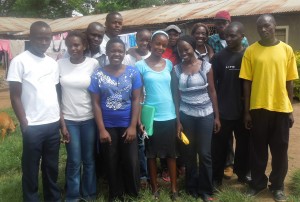 Eunita says, "Throughout my life in the slum area I have seen the suffering and challenges of the slum people completely neglected and forgotten by the professionals. And even more so in the field of health. This is due to lack of sufficient funds to enable them get diagnostic or nursing services. If I qualify in the area of health, I will be in a better position to convince my fellow health professionals to organize frequent free medical diagnosis, prescription and nursing services."