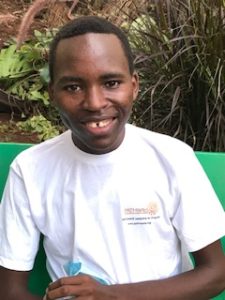 University of Nairobi, Actuarial Science
Project:
Meru
Mentors: Jemimah Peters, Catherine Kaimenyi
Ken is one of 3 children being raised by a single mother.  He is grateful for the support his mother has given him despite the extreme poverty he and others in his community experienced.  He says, "Going through these challenges taught me resilience and hard work. I learned that absolutely nothing comes freely. I also appreciated the value of paving my own way instead of following the crowd. This really took part in helping me to overcome. Later, I started seeing the value and sweetness of education, which is lacking in our society. Accordingly, I set myself to give back to my society. This is through offering mentorship and showing pupils that great life awaits them if they work hard, and helping the needy according to my means. Giving back to society is one of my missions in life." Ken's project is focused on growing trees for food and climate change.
.