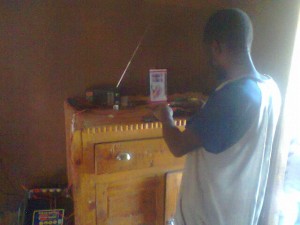 Dennis Mutwiri, third year scholar, reports that his community project involving introducing solar power is providing benefits. Pictured left is a community member who bought a solar kit on credit and is now using the power for lighting, recharging phones and powering a radios.
Commercially, he charges mobile phones for persons in the neighborhood at the rate of KSH10 per phone and uses some of the proceeds to repay the loan for the solar kit.
He explains, "Lately, I have cut costs on my own fuel and charging my own phone and those of my family members." Dennis says, "We are looking forward to intensifying this trend among the group members and the community in general".
Dennis's project is allowing the community to take advantage of "free" solar energy while creating no carbon emissions.