June 4-5, 2011 PATHWAYS annual conference was special this year being held over a two-day period allowing plenty of time for sharing ideas on community projects as well as having a lot of fun together. We celebrated graduations as well as all of the successes the scholars have had in improving their communities over our six years. Special congratulations go to Michael Murigi (Scholar of the Year), Dennis Mutwiri (Honorable Mention Scholar of the Year), Alphonce Oginga (Honorable Mention Scholar of the Year), Nafisa Ayuka (Leadership Award) and Shelly Okumu (The Girl Effect Award).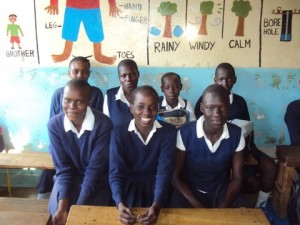 April 11, 2011 Shelly Okumu  is working to implement the Girl Effect by providing adolescent girls with mentors, an identification card, HIV/AIDS education and allowing them a time and space to talk about their lives. She will also be helping them develop an income generating activity in the near future. www.girleffect.org

April 10, 2011 Jemimah Peters is working to empower the girls in her village by helping them earn money from raising crops. She has 13 girl members in her group so far. In their small plot they are raising tomatoes, sukumawiki, and maize. Through this project, Jemimah intends to help girls earn money so they can pay school fees to finish at least their high school education. Gaining an education will help them postpone marriage which can put them at risk for HIV.
March 4, 2011 Dennis Mutwiri and his community group have started a fish farming project funded in part from a government grant of about $350. The pond (25M by 20M) has approximately 120 fingerlings. The fish will serve as a source of food as well as a source of income.

February 10, 2011 David Mundia is assisting his women's group in the Korogocho area in learning to make sandals to sell to generate income. David's PATHWAYS project is to tutor needy students and help to empower women. Recently, the women visited Kariokor workshop to be trained on sandal making. Pictured is an example of the sandals the women will be making.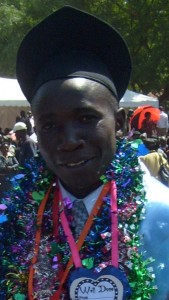 January 29, 2011 In December 2010, Isaac Ngere graduated from Medical School at the University of Nairobi, culminating a distinguished five-years of academic achievement. Isaac, who was the very first PATHWAYS Scholar chosen in the organization's inaugural year of 2005, has been an exemplary scholar contributing to the organization by providing effective leadership and serving as a model for and mentor to younger students. He has also designed, implemented and fully developed an outstanding project in support of HIV/AIDS orphans in his home village of Wagire. In recognition of his success, Isaac's project was the first selected to be listed on the Global Giving site (www.globalgiving.org/4923) and was successful in raising more than $10,000 and earning a permanent placement for PATHWAYS on Global Giving. Isaac's project provides a school in his community that now includes a new building and library with solar power. These improvements will also provide opportunities for training and entrepreneurial ventures like a barber shop. All of us in the PATHWAYS organization join in offering our sincere congratulations to Isaac on his graduation and wish him success as he continues his medical career and community leadership activities. He began his residency training  in January specializing in Pediatric Medicine. We are confident that Isaac Ngere will be an outstanding physician and make many contributions to his community and to Kenya, and we look forward to his continued role with PATHWAYS. Our gratitude is extended to Dr. Stuart Zola for his dedicated sponsorship of Isaac.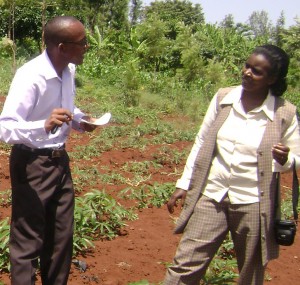 January 20, 2011 Kenya is experiencing severe drought and acute food shortages. Michael Murigi, 2nd year scholar, has made tremendous progress in introducing cassava growing to his community. Cassava is an indigenous crop that is fast growing and well adapted to the dry environment and local plant diseases. The starch filled roots can be used like potatoes or ground into flour, while the leaves can be used like spinach. Michael's project is demonstrating that adding cassava as an alternative crop can increase food security as well as increase income among the villagers. His project is a role model for communities across the country. Great work Michael! Photo at left shows Student Coordinator, Catherine Kaimenyi, visiting Michael's project and witnessing the cassava production first hand.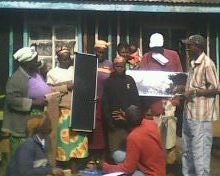 January 13, 2010 Dennis Mutwiri, 2nd year scholar, says "…my projects are thriving and the members are working in unison and harmony which shows that the group's administration is on the right track." Solar panel provision is one of his main projects.  He reports, " The members are carrying out their role as sales people and enlightening the community on the benefits of using green energy."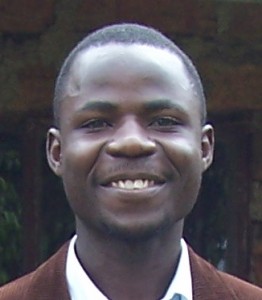 January 10, 2011 Kennedy Otieno, 3rd year scholar, has initiated six active projects in his village. At the end of last year, his most ambitious project, a community borehole was completed. The borehole is providing water to nearly 100 individuals in his village. Kennedy is making a real difference in the lives of his community members! November 20, 2010 Noah Kanda Kelly, 4th year scholar whose project is growing trees to restore the environment and climate, participated in a tree planting project under Mully's Children Family in Yatta area (Eastern). He reports, "We were about 1000 students from different Universities and colleges and managed to plant over 3500 trees." Good
work Noah!
October 30, 2010 The first meeting of the new school year was inspirational with Mr. Eric Kimani, businessman and philanthropist, relating his childhood/youth experiences to his success in business and PATHWAYS vice president in Kenya, Dr.  Mbaabu Mathiu, welcoming the new scholars and speaking on responsibility, commitment, and community development.  PATHWAYS first three scholars, Monicah Wairimu, Isaac Ngere and Levis Maina spoke on the PATHWAYS journey over the last 5 years, the GlobalGiving initiative, an

d job searching after graduation. Welcome 2011 scholars Shelly, Jemimah and Deborah!
October 29, 2010 Remarking on the completion of  the 5th year of PATHWAYS, Monicah Wairimu, the first scholar to graduate, says "PATHWAYS scholars you have done a great job in the organization. Its my prayer that we can do even better to keep the family alive for many many years to come. I am proud of the organization. Long live PATHWAYS, happy 5th Anniversary!"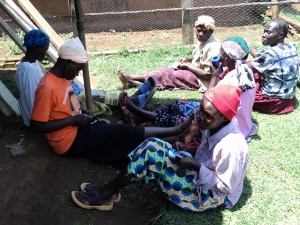 October 1, 2010 Nafisa Ayuka's youth  group is doing well in making sanitary pads for themselves and eventually to sell to others.  Having the necessary hygiene products is crucial to girls being able to attend school regularly.  Nafisa is committed to helping girls in her community succeed.
September 15, 2010 David Mundia, a Dentistry major, was elected chairman of the Nairobi University Dental Students Association. David says, "I am happy about this achievement and I will be glad to serve my fellow students and school".
September 12, 2010 Michael Murigi serves as the chair of the Youth Group in the Murang'a Presbytery which consists of 50 congregations with more than 500,000 youths.  In addition, Michael is Secretary of the Murang'a University Students Association, a network of both public and private universities' students from the greater Murang'a County.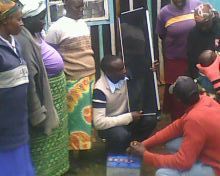 August 28, 2010 Dennis Mutwire organized a solar installation training where 7 of his community members were trained on how to install the panels on house roofs, connect the panels to a solar battery inside the house, and wire in order to power various electrical appliances such as light bulbs, radio sets, mobile phones. Dennis is currently doing an internship at Meru Water and Sewerage Services. He says, "It is a great experience".
August 30, 2010 Michael Murigi is teaching Agriculture and Business Studies during his long vacation at Muthithi High School, near his home area.  Michael continues to push his cassava project forward.  He recently invited the Kenya Agricultural Research Institute to provide training to about 500 women on the benefits of cassava farming. Additional education was provided by Kenya Women Finance Trust, a leading microfinance institution, to create awareness about microfinance banking.
August 29, 2010 Alphonce Oginga who just finished his freshman year at the U of Nairobi, is interning at the Nairobi City Hall Planning Department. He says, " Although one is suppose to go for internship in third year, I deemed it fit to begin earlier. At least I'm able to compare the theory we've learned and it's practical application."
August 15, 2010 While student teaching at Oloolua Secondary School, Noah Kanda coached girls' football (soccer) and filled in as a teacher on duty with all of the accompanying oversight responsibilities. Noah reports, "Being a teacher on duty, I felt elevated because I was at the center of consultation by teachers, visitors and students."
June 26, 2010 Catherine Kaimenyi, the Student Coordinator/mentor, visited Monicah Wairimu's project in Elementaita to offer the women's group leadership training on community development, fund raising, record keeping and reporting.
June 19, 2010 Michael Murigi secured his group a stand at Muranga District Agricultural Show (pictured left) where they displayed cassava products including Mandazi (baked from cassava flour), crisps, porridge. Pictured are Hon. Dr. Joseph Nyaga, Minister for Co-operatives, Hon. Elias Mbau, M.O., Maragua Constituency and Eunice Wambui Kamande, an ex-officio member of the project management council.
May 22, 2010 Catherine Kaimenyi, Student Coodinator, organized a course on community development for university students with help from the PATHWAYS scholars. This gathering also served to spread the word about PATHWAYS and the availability of scholarships.
May 15, 2010 Noah Kanda began student teaching at Oloolua Sec. School, Ngong. He says, "It is a nice experience teaching young people and more importantly motivating them."
May 15, 2010 First year scholar Michael Murigi was invited by Dr Kamau of the Kenya Agricultural Research Institute to speak on his cassava project at a high level agricultural meeting in Kenya. Former Senator George McGovern and other dignitaries were present.
May 6, 2010 Kennedy Otieno, 2nd yr scholar, was appointed by the University of Nairobi to give motivational talks to secondary school students. The career week was organized by the Honorable Member of Parliament for Karachuonyo Constituency Eng. James Rege in an effort to create an educational and motivational forum for High School students.
April 29, 2010 PATHWAYS won a spot on Global Giving. Many thanks to all who helped!